HV Cable Jointing & Termination

Our team of experienced cable jointers are highly trained and certified by local statutory authority to carry out jointing and termination on variety of cable types and sizes up to 33KV. Our jointers offer service of the highest quality and work professionally and at all hours to ensure all works are completed as re-quired.
The trend with many switchgear manufacturers, particularly voltage exceeding 11kV, is to employ the cone plug cable connection system. Our staff is well trained and equipped to carry out the connex system of inner core plugs up to 33kV.
We offer Jointing & termination services for the follow-ing types of cables:
High Voltage – 11kV & 33kV from XLPE to XLPE, XLPE to PILC, polymeric and conventional paper insulated.
Low Voltage – All sizes from single to four core cables.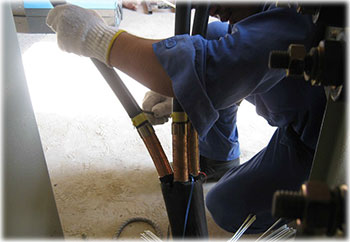 To learn more about our past and ongoing projects, please visit the Project Page