Testing & Commissioning Services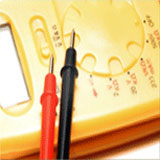 As a specialized and certified Electrical contractor we are able to provide our clients Testing and commissioning services for all kinds of electrical equipment's. Our experience engineers are able to test majority of elec-trical equipment's both in-house and on-site. Invaluable in determining the effectiveness of your resources, out test allow us to appraise your in-stallations with a view to maintenance, refurbishment or replacement.
As part of our installation or as a standalone service, our specialist engi-neers can visit your site to test and commission your equipment's to an operation standard.
We have the resources and expertise to execute the following types of test:
Commissioning
Current Transformers (CT)
Voltage Transformers (VT)
Power Transformers
Protection Relays
Power Factor Corrections
Circuit Breaker Testing
Relay Testing single & three phase.
Circuit breaker analysis
Micro Ohm testing
Primary & Secondary Injection testing.
Power Factor Corrections
Hi-Pot Testing
Very low Frequency AC/DC Hi-Pot 60kV for cables up to 34kV.
Oil Filled Equipment
Portable dielectric testing
Oil Filtration/ Purification.
To learn more about our past and ongoing projects, please visit the Project Page